Microblading with Flirt Brows & Beauty Studios!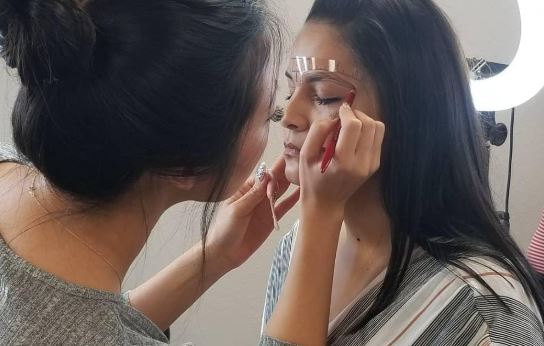 Microblading is a type of eyebrow style. It is all about creating the best shape for each face – which varies per client. We want to give you the best look to enhance your natural beauty and features.
The process is very precise and thanks to the tool that is used which is effectively like a pen with a blade. 10-12 little needles at the tip don't penetrate the skin but just delicately scratch the surface, much like a paper cut.
The needle very finely implants featherweight strokes with a medical grade pigment on the epidermis layer for the skin, creating fine, realistic and natural hair strokes.
How is microblading eyebrows different to having your brows tattooed?
Microblading, unlike tattooing, is not in the deep layer of skin, but more on the surface. This is also not permanent, and the color fades within 18 months.
The hair strokes are far more natural and finer than any tattoo, as a handheld needle/blade is used – there is no electrical gadget that permeates deep in this technique. There is therefore more of a scratching noise, rather than a buzz of a tattoo gun which pierces the skin so deeply.
How long does microblading last?
Microblading lasts anything between 12-18 months, but the longevity of the pigment will depend on your skin type. 
Can microbladed eyebrows be undone or removed?
Yes, it can be undone. The pigment used leaves no scarring or discoloration, and I can use a salt/saline solution to remove microbladed brows. It is very important to know and understand that brows will be up to 40% darker in shade for the first 7-10 days during the healing process where scabs can form and flake off. Do not pick off the scabs. Let them flake off naturally. 
Ladies can sometimes leave the studio, and two days later be terrified that their brows are too dark, but please be patient – as this is totally normal! After 7-10 days, you will begin to see the final coloring. If you have any questions please feel free to reach out. 
The Pre-Microblading Rules
Do not pick, tweeze, wax or have electrolysis one week prior.

Do not use sunbeds or sit in direct sunlight two weeks before.

Do not have any type of facial or peel two weeks prior.

Stop using any retinol or Vitamin A products one month prior.

No exercising on the day.

Do not have botox three weeks before.

Do not take fish oil or Vitamin E one week prior (these are natural blood thinners).

Do not wax or tint your eyebrows three days prior.
On the day of your appointment:
Do not drink alcohol 24-48 hours prior to your appointment.

Do not drink coffee 2 hours prior.

Do not take aspirin or ibuprofen 24 hours prior.
Look at those Brows!
We are so excited for your new brows!