Learn Microblading with Flirt Brows & Beauty Studios! We'll teach you the fundamentals of semi-permanent makeup and the same techniques many of our artists use every day!
TRAINING NOTICE
*All trainings require a non-fundable deposit. Deposit can be used towards a different class or different training date, but we do not refund class deposits.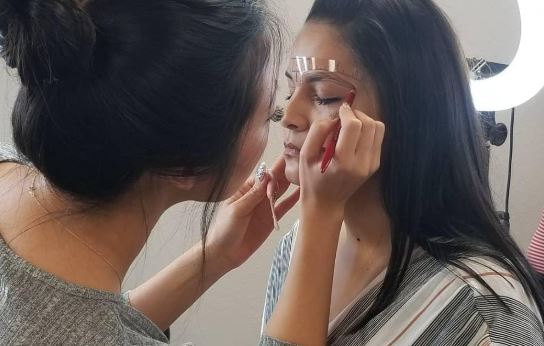 3-Day Microblading Course 
Our course includes sanitation to ensure the safety and sanitation for you and your client. We also focus on learning the layers of the skin and where to place the pigment. Understanding these layers is imperative to providing a safe treatment without scarring. We will teach you the industry & how to grow your own microblading business.
Other subjects that will be covered include but are not limited to:
Color Theory

Face Shapes & Brow Shapes
Brow Mapping
PMU Brow Types
Marketing, Business Setup & Consent Forms
Hair Strokes Technique
Live Model
Pigments
Final Test
Certificate of Completion
Touch Up Sessions
Permits & Licensing
Leasing & Insurance
What's Included:
Training, Ongoing Support, Private Facebook Support Group, Manual, Kit, Consent Forms, Digital Marketing Tools, Certificate Upon Completion 
TECHNIQUE & PROCEDURE
Training manual introduction

Microblading tool & blades

Practice on paper and artificial flat & raised eye skins

Eyebrow reconstruction, mapping, eyebrow shape and shading

Color pigment choices

Aftercare, touch-ups and color boosts
YOUR BUSINESS
Business & Marketing

How to Enhance First Impression

Managing Expectations

Handling Consent Forms 

Client consultations and photos

Review Process & Aftercare
HEALTH & MEDICAL
Bloodborne pathogen and communicable disease overview 

Medical condition overview

Skin basics & needle placement

Review sterilization and disinfecting requirements

Numbing Styles

Managing complications

 

Charlene is a master in microblading. She will coach you each step of the way and show you the best microblading techniques to help you be successful. 

Charlene gives you all the tools you need to successfully build your own microblading business. She loves what she does and will invest in you! 

Charlene mentors all of her trainees and gives them tips, tricks, and the support they need while starting their business. 
The earning potential is up to you! You can work part-time or full-time depending on your schedule and how much you want to make! 
You can start your

 6-figure income 

with a $3,000 investment in your future.
Average Charge
$600
For Microblading
2 Clients Per Week
$62,000
Annual Revenue
4 Clients Per Week
$124,000
Annual Revenue
6 Clients Per Week
$187,000
Annual

Revenue
I want to say I was very pleased to find Charlene as a teacher, very friendly. She is very flexible, responds fast, great teacher and provides ongoing mentoring. I had couple really bad experiences and she was willing to help me as well. Thank you Charlene!
Charlene is such an amazing instructor. I have taken a few of her classes and have loved every single one of them. She is very informative and very helpful when it comes to business and marketing techniques which a lot of expensive schools fail to explain. Her prices are very affordable and I love that she has on going meetups to practice techniques.
Register for Microblading Training